Calling An AC Repair Technician Can Save You Money
When it comes to problems with air conditioners that cool many homes, the most often noticed cause is electrical rather than any other. A/C repair technicians are schooled in how to detect these disruptions to the electrical supply in air conditioning units, and often save their clients hundreds of dollars.
Common AC Repairs
Because of all the use that your air conditioning system gets throughout the year, you will likely eventually need to call your local AC repair company for help. If you're experiencing any of the following issues, call for professional air conditioning repair services.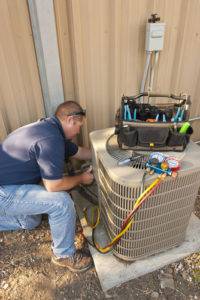 Not enough cooling – If you turn on your air conditioner, but it isn't able to keep your home cool enough you should probably call your local AC repair company. This issue will not resolve itself and could be caused by a severe problem. It could be that your thermostats are faulty, but it could also mean that your compressor is defective, that your fan motors are broken or that you have low refrigerant.
AC leaking water – If you notice that your air conditioning system is leaking water you should call your local AC repair company immediately. Not only is this a sign that your AC unit isn't working well, but the leaking water could potentially cause damage to your home. Your air conditioner naturally creates condensation, similar to when you take a cold glass outside on a hot day. This condensation normally drips into a pan and drains away. But if the pan is clogged or if the drain line is clogged it could cause the condensation to overflow.
Air conditioner making strange noise – Another very common air conditioner sign that a repair may be needed is a new or unusual noise. If you turn on your AC system at it makes a squealing, hissing or gurgling noise call your local AC repair company. Squealing usually is caused by a bad fan motor belt that needs to be replaced. Hissing is generally caused by a refrigerant leak somewhere. Gurgling is indicative of low refrigerant.
How To Hire A Good AC Repair Technician?
When it comes to air conditioning services, there is only a certain level of skill to be gained by training. Many techniques and knowledge can only be achieved by years of experience in the trade. Make sure that your air conditioning technician has enough years of experience so that they can provide you with outstanding services.
Looking For A Reliable AC Repair Company?
Our Mission at All County Air Conditioning Repair is to serve our customers in the best way possible with a wide variety of air conditioning repair services. With the owner having over 35 years of experience in HVAC, you can be confident in your decision to have All County Air Conditioning Repair, Refrigeration & Heating Repair Co. as your cooling and heating professionals for Plantation Florida and the surrounding areas. Our air conditioning repair service technicians are NATE-Certified (North American Technician Excellence) in air conditioning, heat pump, and air distribution, and they receive ongoing education from equipment manufacturers. They are some of the BEST and most highly-trained HVAC service technicians, ready to work with you to help resolve any equipment issues you may be having. Call us today at 954-297-9754 or fill out a contact form!