All County Air Conditioning Repair – The Company That Cares…
First of all, you should always look for the company which has the most experience.  However just because the company has been around for a long time does not mean that the employees are experienced. It is the employee experience in dealing with air conditioning issues that is more relevant compared to the length of time the company has been in existence.  If these professionals do not have any expertise or experience working on the equipment, they are unlikely to do a good job for you. Getting the right professional from the start will save you time, money and headaches in the future.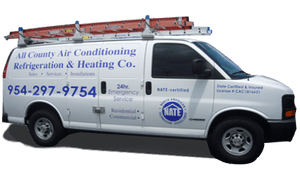 One way to find out about the company`s experience is to look at the certification and training that the workers go through. Factory trained professionals are likely to be better equipped to handle the repair job than untrained workers. Although these skills can be learned when on the job or through experience, the factory trained workers would have the necessary knowledge on hand to figure out what the problem is and fix it. Workers who learn on the job are likely to tinker around with your unit before they can find out what is wrong. This will take longer and possibly not work so well because it is a trial and error effort.
Second, you should always have an emergency contact for the A/C repair company on hand. Murphy`s Law dictates that your air conditioning unit can break down at any hour of the day. You are just putting your family`s comfort at risk if you do not know who to call when the machine breaks down. If you only start searching for a repair company when the machine is out of order, then it is already too late. Ideally you should find a company with excellent emergency services like having a technician on hand 24 hours of the day. Research has shown that most A/C units fail during the middle of the night so having a technician on call is just plain common sense.
Finally, you need to consider the price charged by the company when searching for a professional repair. Some unscrupulous companies like to hide additional costs making the final cost higher than stated in the quote. This is not allowed under the law and you should stand your ground when faced with such situations.
It is because of these reasons that you should always choose All County Air Conditioning, Refrigeration & Heating Co. as your main provider for air conditioning repairs.