All County Air Conditioning Repair – The Company That Cares…
All County Air Conditioning Repair has the most experience dealing with HVAC units all around Florida. We guarantee a good service so your unit can work as expected. Also, if properly maintained, you won't have unexpected breakdowns in the future.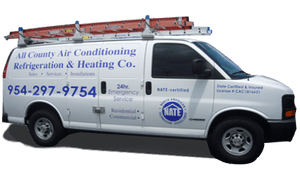 Our company has the experience, certification, and factory-trained professionals. All County workers have the necessary knowledge on hand to figure out what the problem is and fix it.
Second, you should always have an emergency contact for the A/C repair company on hand. Murphy's Law dictates that your air conditioning unit can break down at any hour of the day. You are just putting your family's comfort at risk if you do not know who to call when the machine breaks down. Our company has excellent emergency services 24 hours of the day.
Research has shown that most A/C units fail during the middle of the night. That is why it is advisable to have our contact information in case of an emergency.
Finally, we will be accurate and upfront assessing your unit, and no hidden fees will be charged after service.
Because of these reasons, you should always choose All County Air Conditioning, Refrigeration & Heating Co. as your main provider for air conditioning repairs.