First Class Air Conditioning Repair in Fort Lauderdale
Don't wait until its too late to fix your unit when it is making weird noises! If you need to hire a good air conditioning maintenance specialist, look no further than All County Air Conditioning Repair! We are a company that offers quality service at budget-friendly prices with professional technicians ready to diagnose your unit and save you money from buying a new one.
We have a good reputation with the Better Business Bureau, use factory replacement parts, and have cost-efficient solutions for any of your air conditioning repair and maintenance needs.
We conduct air conditioning services properly according to the manufacturer's security standards and your personal demands. Hence, after our air conditioning repair service has been undertaken, your HVAC system will start working better than before. 
In case you've got a new HVAC system, or there have never been any problems with your air conditioner, we are factory-trained technicians that would deal with units made by the top manufacturers. 
Remember, that even though you have to spend some money to fix your air conditioning, you're saving much more when you hire our skilled and experienced professionals to conduct a proper unit assessment and a service job.
Don't settle for sedulous contractors that will promise you to fix your unit when the life cycle is already due. We are very honest and upfront to tell you that your unit won't work regardless of the job we perform even with factory-replacement parts if we notice that it will only work for a few months, and is not worth the repair. 
Don't neglect your air conditioning repair in Fort Lauderdale until its too late, or you will find yourself facing a broken unit impossible to fix. In other words, you don't want to sacrifice the entire unit from being fixed on time before it is too late, rather than having to buy a costly new unit. Book with us before its too late at 954-297-9754.
Looking For A Reliable AC Repair Company?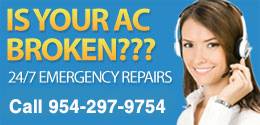 Our Mission at All County Air Conditioning Repair is to serve our customers in the best way possible with a wide variety of air conditioning repair services. With the owner having over 35 years of experience in HVAC, you can be confident in your decision to have All County Air Conditioning Repair, Refrigeration & Heating Repair Co. as your cooling and heating professionals for Plantation Florida and the surrounding areas. Our air conditioning repair service techs are NATE-Certified (North American Technician Excellence) in air conditioning, heat pump, and air distribution, and they receive on going education from equipment manufacturers. They are some of the BEST and most highly-trained HVAC air conditioning repair service technicians, ready to work with you to help resolve any equipment issues you may be having. Call us today at 954-297-9754.