Experience the Best Residential AC Repair in South Florida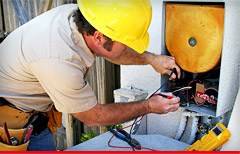 Hot Under the Collar? Need Your Home Air Conditioner Fixed Today, Not When the Technician Decides to Show Up? At All County Home AC Repair our proven reputation of over 35 years of talked-about customer service is why we're considered the best. We know that needing a home AC repair is probably making you uncomfortable, so we'll do everything we can to get your system working as fast as possible.
As one of South Florida's most experienced home AC repair companies, we have the staff to respond to you quickly. Don't wait in line for another company; complete our priority request and get fast service.
Wondering If You Can Afford the Repair?
You work hard for your money, and we make sure to work hard for you. We offer quality air conditioning service at an affordable cost, without bloated service fees or hidden emergency charges.
Not Sure What's Wrong? Don't Worry, We Do It All!
Our residential home ac repair services include any necessary replacement parts, system modifications or HVAC ductwork repair, servicing Plantation and surrounding areas.
Should I Repair or Replace My AC System?
How are you supposed to know whether your home air conditioner is worth fixing? Let the experts do the thinking for you. If you need a residential installation or replacement, we will assess your problem and help you eliminate unwanted expenses and worry.
Need help with your commercial ac repair? We do that, too! Fill out our Priority Service Request form, and let us get to work for you!