AC Repair Recommended for a Newborn?
Maybe you, as an adult, don't care too much if it's a "little bit" cold or hot, but those minimum temperature changes can be crucial when you are talking about a newborn. Don't expect your newborn to have the same temperature sensation in his body as you do (even, when he grows up). If you are having problems with temperature regulations in your home and a new member is coming to the family, an AC repair is the solution.
Is using an AC Unit safe with a newborn?
Yes it is safe, but if you take a few precautions. Most doctors agree that it is safer to use an AC unit with a newborn than to let him stay in a hot, airless and humid environment.
Babies, particularly newborns, can't adjust their body temperature as well as adults. This makes them vulnerable to heat-related illnesses such as heat rash, dehydration, heat exhaustion or even heat stroke.  But many experts suggest that a properly cooled and ventilated room helps your baby to sleep comfortably and reduces the risk of SIDS (Sudden Infant Death Syndrome).
On the other hand, a room that is too cold could severely lower your baby's body temperature and chill him.
Once you are done with your AC repair specialist, follow these tips to help keep your baby safe and comfortable while using an AC unit:
Maintain the room temperature between 23 and 27 degrees C
Changes in the outside heat and humidity can affect the proper room temperature from home. It could get too cold too quickly, making it uncomfortable for your baby.
If you are using an AC, set the timer for the duration it takes to cool down the room. If your AC doesn't have an inbuilt timer, use an alarm clock to remind you. If your AC doesn't have a temperature display, keep a thermometer in the room to help you monitor the temperature. You can improve your device with an AC repair specialist.
If you are using a cooler, leave a window or door open, especially in humid weather such as the monsoon. As a cooler evaporates water to cool, it increases the humidity in the air. In a closed room, the humidity keeps going up and will stop the cooling. This can bring a gradual rise in the temperature, making the room hot and sticky.
Some experts suggest using a fan or the AC instead of a cooler in humid weather, but if you can upgrade your unit or get an  AC repair, it would be better for everyone at home.
Keep your baby away from the direct blast of cold air from the AC or cooler
Dress your baby in light layers that cover his arms and legs. Doing so will protect your baby from cold air. You may like to try a light cap for his head and some light socks or booties to cover his feet. If you plan to use a blanket, make sure you tuck it below his elbows to avoid covering his face. Ideally, your baby should wear one more layer than you.
Keep your baby well moisturized as using an AC may dry up his skin
Some experts suggest dipping an ear bud in baby oil and gently swiping it in each nostril. This may prevent nose bleeds caused by dry nasal passages.
Some moms recommend keeping a bowl of water in the room, preferably near the AC. The water helps to reduce the dryness and keeps the air in the room "moist".
Don't take him to a warm place immediately after leaving the AC or cooler
The sudden change in temperature may cause your baby to get sick. Instead, switch off the AC and give him time to get used to the outside temperature.
Before switching the AC in your car, air it out
Protect you and your baby by opening all the windows first to let the hot air out. You can switch on the AC afterwards.
It isn't necessary to use an AC or cooler at all times. In fact, when it isn't too hot or humid, many moms use just a ceiling fan, that can be installed by your AC repair technician. It works well to keep your baby cool and comfy. As hot air rises and leaves the lower levels cool, you can keep a thin mattress on the floor for your baby to rest on. Draw the curtains to keep the sun out and dress him in a light romper or onesie. When he starts to get hot or bothered you could move him to a cooler room or switch on the AC.
Looking For A Reliable AC Repair Company?
Our Mission at All County Air Conditioning Repair is to serve our customers in the best way possible with a wide variety of air conditioning repair services.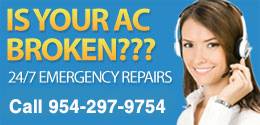 With the owner having over 35 years of experience in HVAC, you can be confident in your decision to have All County Air Conditioning Repair, Refrigeration & Heating Repair Co. as your cooling and heating professionals for Plantation Florida and the surrounding areas. Our air conditioning repair service techs are NATE-Certified (North American Technician Excellence) in air conditioning, heat pump, and air distribution, and they receive on going education from equipment manufacturers. They are some of the BEST and most highly-trained HVAC air conditioning repair service technicians, ready to work with you to help resolve any equipment issues you may be having. Call us today at 954-297-9754.